Shop for parcel packaging dedicated to removals in Mudaison
Find at Les Déménagements Cullell in Mudaison different types of quality packing materials.
Sale of all kinds of packing materials for Removals in Mudaison
We have all kinds of packaging for sale for your move in France or abroad: standard cardboard, book cardboard, adhesives, wardrobe cardboard, rolls of bullpack, stretch film, mattress covers and more.
Our rates per unit (incl. VAT):
Wardrobe box: €8.50
Standard cardboard box: €1.15
Cardboard boxes for books: €0.85
Glassware moving boxes: €10.25
Adhesive tape: €1.30
Stretch film: €10.00
Mattress cover (100 cm): €2.60
Mattress cover (140 cm): €4.00
Mattress cover (160 cm): €5.00
50 cm x 100 m roll: €16.00
1 m x 100 m roll: €32.00
We also offer many other services on request, such as furniture lift hire, moving for homeowners and company relocation.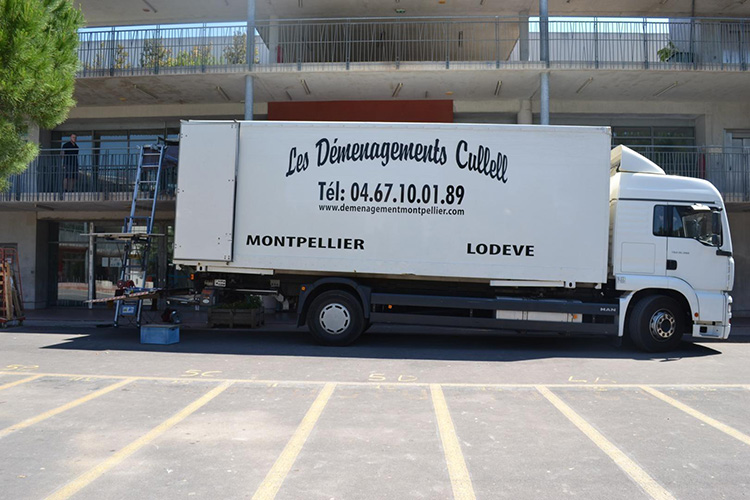 Sale of packing parcels and military personnel Removals
Over the years, we have also specialised in the relocation of military personnel and gendarme. We are familiar with the moving procedures of the army.
We have thus provided specific services to the military and gendarmes according to their entitled volume:
Relocation of furniture
Furniture storage
Vehicle shipping
Payment methods adapted to refund procedures
Move safely with Les Déménagements Cullell's packing services and complete packages in Mudaison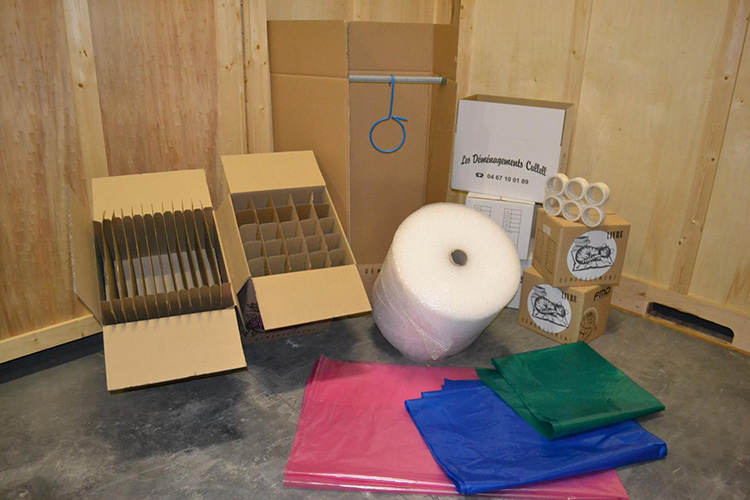 Insurance for your move
LES DÉMÉNAGEMENTS CULLELL has partnered with AXA, a renowned insurer, to protect your goods. You can choose between two types of moving insurances: contract insurance and damage insurance.
Damage insurance
In this type of contract, the insurance company provides compensation for any damage or loss related to the move, regardless of the cause. Just like with the contractual insurance, the "value declaration" form must be completed and delivered to the service provider before the move.
Contract insurance
It automatically includes some other contracts. In this case, the company's duty is to move all furniture and objects entrusted to it, except in case of natural disasters, riots, attacks, strikes, damage caused by third parties to the moving company.
For the contract to be valid, it is important to fill in the document called "value declaration" and return it to your service provider before the move. In the value declaration form, you must list all the goods of more than € 360 that have to be moved. The total value of the items to be insured must not exceed the limit defined in your contract. You can increase the maximum amount if necessary.
Exceptions:
The client's fault, a vice of the item, malfunctions of electrical, mechanical, computing, musical devices, out of tune piano and other objects.
Cleaning before inventory
After your move, your old home must be cleaned. Give yourself no trouble and let us take care of it.
We carry out all necessary cleaning work, from simple sweeping to complete cleaning. Our team also takes care of your waste and bulky debris removal needs. You can then conduct your inventory without any hassle.
A practical and effective solution to make your move much less tiring!
Relocation of homeowners and businesses
International relocation
Furniture lift rental
Furniture storage service
Transport services
Extensive experience
Competitive rates
Free quote
Modern and high-performance equipment
Eco-friendly company
Payment in 4 instalments
We operate in Mudaison, Montpellier, Nîmes and throughout Europe, including Spain, Italy, Belgium, the United Kingdom, the Netherlands, Ireland, Germany and Switzerland.
Request a Removal quote via the contact form.
To make your move a success, call on our team.
EURL TRANSPORTS DEMENAGEMENTS CULLELL is committed to ensuring that the collection and processing of data carried out by our
demenagementmontpellier.com
site complies with the General Data Protection Regulations (GDPR) and the Data Protection Act. To know and exercise your rights, particularly concerning the withdrawal of consent to the use of collected data, please consult our
privacy policy